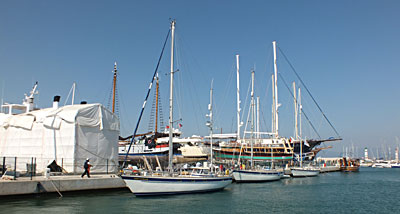 Safari celebrated her 30th year in 2012. The wooden deck had served well during those years but the wood had now got so thin that leaks were inevitable in spite of the very painstaking re-caulking job carried out by Ken and myself during 2009-2010. The paint work and the gelcoat in general looked tired and faded and in need of brightening up.
→
Share
Dear Friends,
Thank you for your kind response during the Boot Duesseldorf. We are looking forward to meet you in Avrasya Istanbul Boat Show between 13th and 21st of February, Hull 4, stand A09. When you arrive to Avrasya Boat Show please do not hesitate to contact us by phone. We will be so glad to represent your free invitation cards at the entrance.
Kind regards,
Your  yachtWORKS team
→
Share
"Yachtworks re-built Tetranora. And I mean re-built."
Coming up the Red Sea Skylax was limping along. Not mortally wounded but licking her wounds. After over 30,000 miles on her circumnavigation there was general wear and tear and worse, some wounds we had inflicted on her.
In Malaysia in the last race of the Raja Muda an insane moment of adrenaline inspired racing put her briefly up on a coral outcrop. Worse I knew it was there and stopping dead from five and ...
→
Share