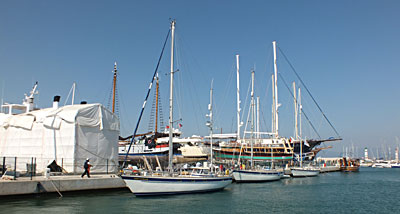 Safari celebrated her 30th year in 2012. The wooden deck had served well during those years but the wood had now got so thin that leaks were inevitable in spite of the very painstaking re-caulking job carried out by Ken and myself during 2009-2010. The paint work and the gelcoat in general looked tired and faded and in need of brightening up.
→
Share

Boat stuff: Maintenance and boat 'jobs'
This page covers boat maintenance, some of it pretty major, and some of it just jobs that need to be done to ensure the smooth running of the little ship.
Renewing the Keelbolts on Skylax
What you are about to read is scary, very, very scary. In Malaysia we hit a coral outcrop at ...
→
Share