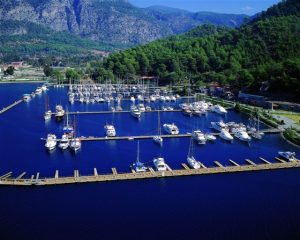 Gocek Branch:   Cumhuriyet mahallesi, Turgut Özal caddesi No:11
48310 Gocek – Mugla -Turkiye
Tel-Fax : 0252 645 10 58
36º 44′ 9" N, 28º 56′ 6" E

About D-Marin Göcek
A paradise where Turkey's Mediterranean coast meets the pristine south west, D-Marin Göcek is sheltered in a cove of unspoilt hidden beaches, pine forests and 12 islands to create Turkey's safest natural marina. According to legend, Icarus crashed into the sea here and, being known to antiquity, the surrounding area is of course full of ancient sites to explore.
The area is known for its strong tradition of hospitality and, according to local custom, visitors are "guests of god." The area also has a remarkable climate and is famous for growing wonderful tangerines, lemons and even bananas. This preciousness has been recognized and it is a registered area of special protection, meaning multi-story buildings are not allowed and the natural beauty has been largely preserved.
This beauty is easily accessible as the marina is a mere 25-minute drive from Dalaman international airport along modern roads. Göcek itself is only a five-minute walk from the marina and contains many pleasant restaurants, cafes and bars along its promenade.
With 380 sea berths, space for 150 yachts on land and the capacity to host superyachts, Göcek has the extensive facilities to be expected of a D-Marin marina, including a Blue Flag beach.