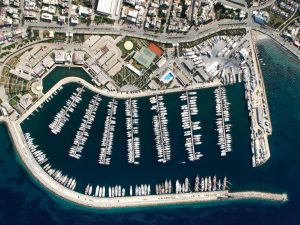 Main Office: Gazi Mustafa Kemal Bulvari No:43
Kat:1 Daire: 1 48960 Turgutreis/Bodrum, Turkiye
Tel: 0252 382 44 45 (Pbx)
Fax: 0252 382 70 74
36º 57′ 59" N, 27º 15′ 19" E
About D-Marin Turgutreis:

Descending from a mountainous hinterland through a luscious valley of orchards and vegetable garden lies D-Marin Turgutreis, only 20km from Bodrum, on sparkling, pristine seas. With 5km of sandy beaches, excellent sea-front restaurants and bars, mild winters and warm summers, the town is a perfect place to unwind. The market on Saturday attracts holiday-goers from the surrounding area and, whilst the town has all the comforts of a modern resort, it still maintains much of its traditional charm. Nearby Gümüşlük, with its ruins of ancient Myndos visible just below the water and its summer music festival, is only a few kilometers up the coast. Moreover, with Bodrum a short drive away, there is no danger of getting bored here!
A leisurely sail away are 14 Turkish islands and the Greek islands of Kos and Kalimnos. Kos, which has passed under the control of various different empires and kingdoms since Homeric times, is rich in architecture and history with many of its spectacular ruins still largely intact, including the ancient gymnasium and odeon.
At only 50 km from Bodrum-Milas International Airport and with a car rental service available, the surrounding area is perfectly accessible. The marina accommodates 550 boats with finger piers for vessels of 8-15m in length and med-mooring for those of 16-30m. A dry dock and in-hangar repair and maintenance services are available, with haulage via a travel lift of 100 tons and trailer of 40 ton capacity.
Visit Us:
You can visit us on your computer now. Take a virtual tour! Click here